A sensational route lies ahead of us: this year we cycle along the southern Croatian coast and continue through Montenegro to Albania.
After carrying our bicycles for more than 20 years on aircraft we found this year the perfect packaging solution: we dismantle the front wheels and pedals, stick the front wheels against the bicycle frame and wrap the whole thing with stretch foil. Small dents on the bikes can't be avoided, but we are tired of endless discussions with the airline staff in the recent years and the constant fear that they could reject our bicycles. Therefore we will carry with us from now on: a roll of stretch foil and tape, and within 30 minutes our bicycles are transformed into shrink wrapped packages.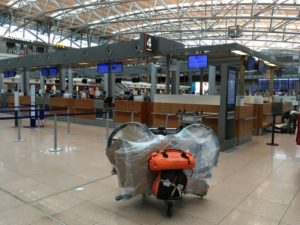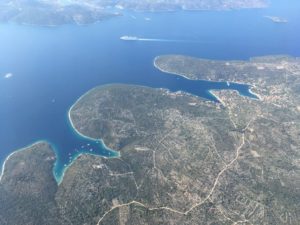 Just 3 miles / 5 km on our way from Split airport to downtown Sven overlooks a pothole and we need to fix a flat tire.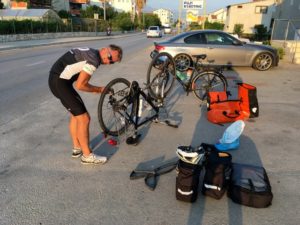 Afterwards we find a very nice hotel close to the old town and it is still hot when we stroll through the narrow streets looking for an appealing restaurant to have dinner at the historic market place.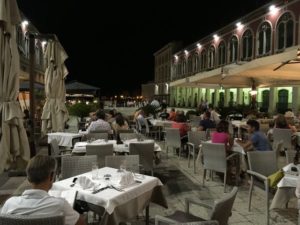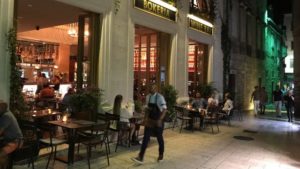 The destination on our first day is the small town of Gradac, which is 65 miles / 100 km away. Riding towards Albania we will stay on highway no. 8 for a couple of days. There are no alternatives: mountains are on our left and the Adriatic is on the right. The hilly territory between a steady uphill and downhill for us.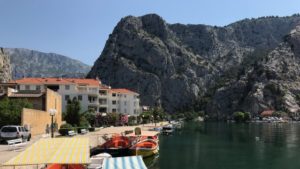 The maximum altitude on this day's stage is 600 feet / 200 meters, which shouldn't be a challenge for us, as we crossed the Alps ! However, since I am not used to the unusually hot weather – it's over 90 degrees Fahrenheit / 30 degrees Celsius – I'm totally exhausted in the afternoon. We constantly need to do short uphill climbs. Drinking 1.5 gallons / 5 liters of water is simply not enough. Thanks to a power drink from Sven's "Triathlon Magic Package", we finally reach Gradac and celebrate the victory of our first day's stage while sitting by the water drinking Czech beer. At sunset, all lights on the beach and in the restaurants were suddenly turned off. When we ask for the check, we finally realize that this romantic atmosphere is caused by a power outage ! No credit card payment is possible, and we have to collect all cash we still possess in Kuna to pay the bill.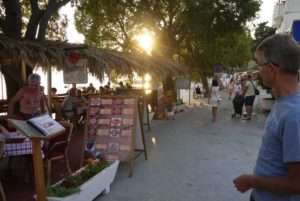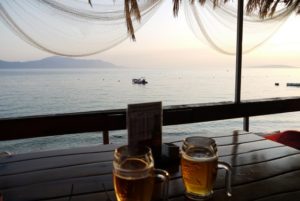 Later we leave our sweaty clothes and cycling shoes on the balcony and assume that they will dry during the night. Around 3am an incredible sheet lightning wakes us up. The summer storm is a great spectacle of lightning and thunder which we really enjoy. On the flip side, we unfortunately need to start our trip next morning with soaking wet shoes and cycling pants. But it is not a complete disaster as we already have 30 degrees. After the short, but steep climb back to route no. 8, we are fully warmed up. We pass the narrow strip that belongs to Bosnia-Herzegovina and return to Croatia after a few miles. The second part of the day is dominated by many climbs. Dubrovnik is already in sight, when we have to master another 300 feet / 100 meters in altitude. We pick the first hotel we can find, it has a beautiful view over the bay.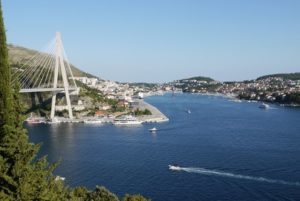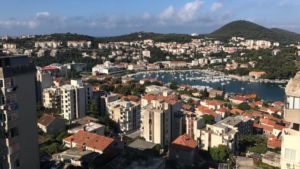 On our way to the old town we walk down endless stairs and then take a bus. The historic city center of Dubrovnik is really impressive. We stroll through almost every side street and enjoy our dinner in one of the many restaurants.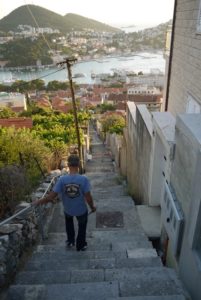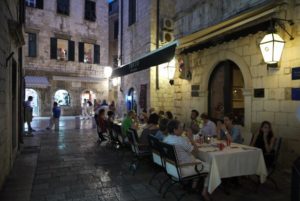 Our next destination is Budva in Montenegro. Until now a highway which runs parallel to our Route No. 8 took all the transit traffic. After leaving Dubrovnik the traffic volume is much higher, and the trucks are passing by scary close to us. We stay disciplined, on the right side of the road, hoping that the truck drivers are not tired. We make it without accidents to the border of Montenegro. The clerk just smiles at us when we try to pay for the ferry in the Bay of Kotor with Croatian Kuna. We are back in the "Euro Zone".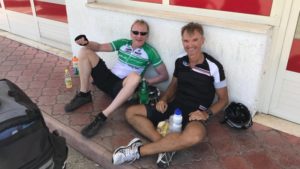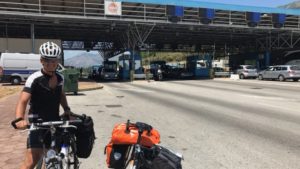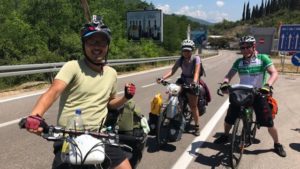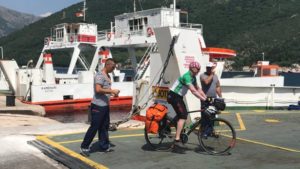 Déja vu: It goes steeply uphill again shortly before Budva. We take several breaks to drink plenty of water and finally master the 1500 feet / 500 meters altitude and roll downhill on the other side of the hill to downtown Budva. The place seems to be almost fully booked and we manage to get a tiny double room. On our search for a nice restaurant, we end up together with hundreds of tourists in a kind of adventure park at the beach: restaurants, gambling dens, live music, ice cream parlors, giant swings and cocktail bars are all over the beach. We learn that Budva is the designated destination for teenagers, not only for Montenegro, also for the bordering countries.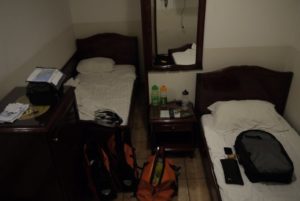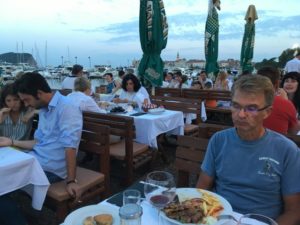 Next morning we head to Albania. Shkodra is our next destination. Thanks to Google Maps we find first the small road and then the shortcut that leads us over a small ridge. Once at the top, we treat ourselves with a huge plate of pasta as the only guests of a restaurant, enjoying the breathtaking view over the valley. With recharged batteries it's an easy ride to the border. The first impression immediately after the border seems to confirm every prejudice: a man in a wheelchair and a family with little kids are begging for money between the waiting cars. A donkey cart, followed by cows and chickens is passing by.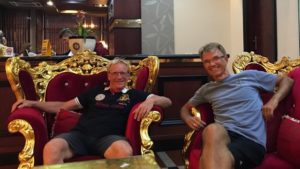 But then we experience another Albania: We see many cars, almost half of them are high end, like Mercedes, BMW or Audi. Shkodra is a bustling city, where we stay for € 80 including dinner and breakfast in a plushy 5-star hotel. The people we meet during our stay are all very friendly and we have nice chats with many Albanians.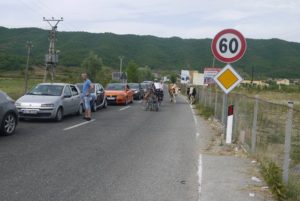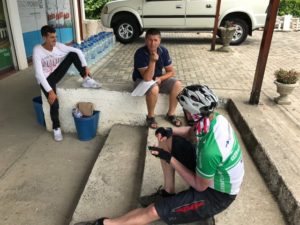 The last day will bring us to Tirana Airport. It's only 50 miles / 80 km, the shortest stage and also almost entirely flat. In addition, the sun hides a bit behind the clouds for the first time. So, we start in our best mood at 100 degrees Fahrenheit / 37 degrees Celsius. But after 20 miles / 40 km with steady, sometimes strong headwinds we are not so sure that this will be an easy ride. We make a detour to the Adriatic Sea to Shengjin, an apartment town with a beautiful beach. After a short lunch break, we continue on the well-developed road to Tirana. Unfortunately, the road then merges into the highway and we have to ride across the fields to reach the parallel road. Instead of 20 miles / 30 km we ride now 25 miles / 40 km and the last 15 miles / 20 km on a dirt road.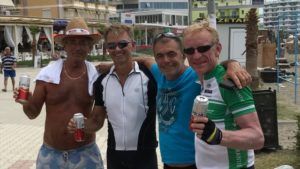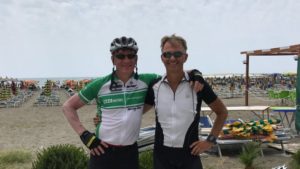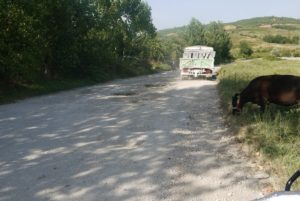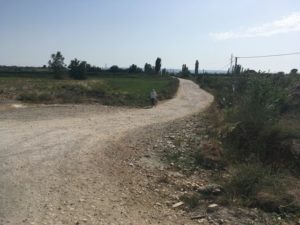 Ice cold coke, a huge ice cream and a big swimming pool reward us at the airport hotel. A rich 3-course dinner served in the hotel garden is the ingenious finishing touch of this year's tour through 4 countries.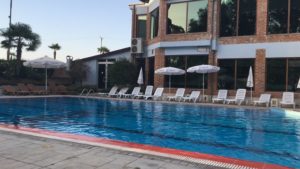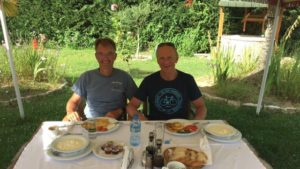 Galerie