Start in Hamburg with two bicycles
This time we packed the bicycles into specially designed cardboard boxes since the bikes have been damaged on the flight back last year, and it turned out to be pretty difficult to repair them (see report Tirana – Thessaloniki). It's already not that easy to get the 6 feet long boxes through the revolving door at the airport, but it is completely impossible to make it through the narrow zig zag waiting line in front of the Turkish Airlines counter with the two big boxes. Therefore, I park them next to the waiting line, which immediately attracts the attention of the airport security. Wildly gesticulating I try to explain that the boxes belong to me, at the same time trying hard not to lose my position in the queue. Next, the lady at the check-in counter somehow insists to take a look at the boxes, so that I have to pick them up again and push them against the stream of already checked-in passengers to the counter, without being able to overlook those huge containers. By now I am an entertaining attraction for all other people around.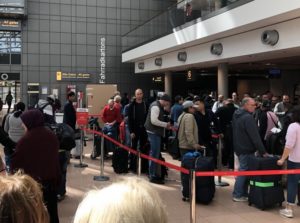 Exhausted and covered with sweat I want to drop off the boxes at the scanner for oversized check-in hand luggage. Since the boxes are too big for the scanner, I am asked to take the bikes out of the boxes. Finally, after about 2.5 long hours of scanning, checking, doublechecking and repacking, the bicycles are on the way to the plane.
This is indeed not the reason that my flight to Istanbul is so long delayed, that I am missing the connection to Thessaloniki. As a side effect I get to know the new, huge airport of Istanbul while I am busy to rearrange my travel plans. As Sven plans to stay the night in Istanbul anyway, I book the same hotel as him as well as the same flight to Thessaloniki next morning. And indeed, our bikes arrive with the same plane as us, so we are ready to start our first day!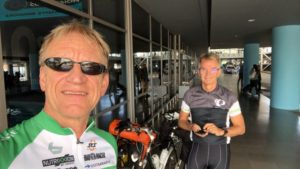 1st day stage
The first day's stage is rather flat, so we take the 111 km to Katerini without major problems. The journey starts from the airport through the city of Thessaloniki and then we head to the south. Located in the West of Thessaloniki is a big national park, which is characterized by a large delta of 3 rivers. Unfortunately, we can't pass it, since there are hardly any bridges to cross the rivers.
Behind Thessaloniki we can ride on small, well-maintained roads parallel to the main street so that we arrive in the city of Katerini (85,000 inhabitants) in best mood.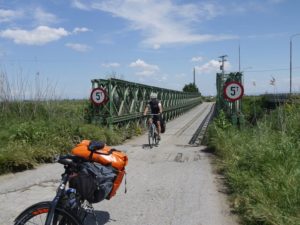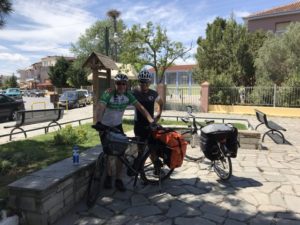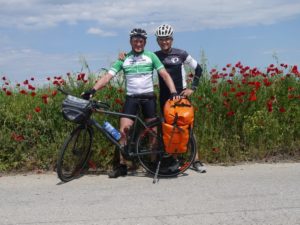 2nd day stage
Parallel to the southbound highway is a small, paved road, where we could cycle excellently all the way to Athens. Unfortunately, it has a high wall next to it, which doesn't allow us to have a good view. After
25 km alongside wall, we choose the alternative option to ride down the coastline to the Aegean Sea. One of the very few fortresses in this area (Platamonas) forces us to make a short ascent up to 250 feet in elevation, but otherwise it is a smooth ride. The weather has mercy on us: a dark rain front just missed us, so that we can take off the rain gear after a short while. Since we ride only 55 miles today, Sven accepts the few gravel roads that we have along the way. The Grand Hotel in Larissa (140,000 inhabitants) is already waiting for us.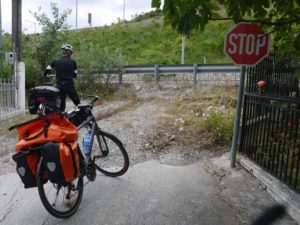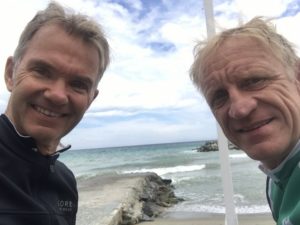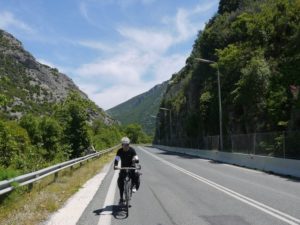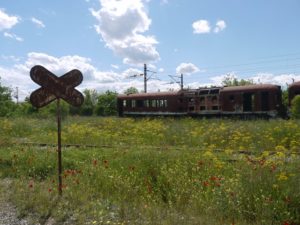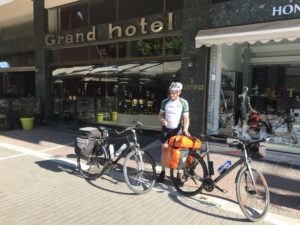 3rd day stage
On the third stage, the terrain is a bit more challenging. We have 65 miles with more than 3,000 feet elevation to master. We manage to avoid the highway and drive on a beautiful, quiet road with stunning views on both sides. Almost at the end of our stage it goes downhill to sea level and then again up 600 feet in altitude. This is it for the day, we land in Glifa (260 inhabitants), a little village at the Aegean Sea. Since there is only one hotel around, we had booked a room in advance. We get a warm welcome. Walking through the village, which is just a distance of 1,000 feet along the water, we see the sign: "Man spricht Deutsch". (We speak German). The owner approaches us fluent in German and shows us to the terrace where we enjoy a sundowner overlooking the Aegean Sea.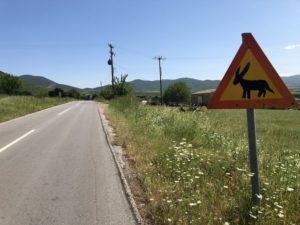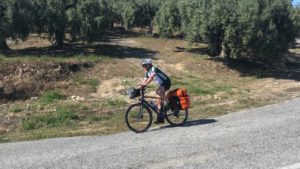 The locals celebrate Glifa's main event of the year this night. We watch from the terrace the gathering of about 200 Greeks, who are taking a ferry to one of the nearby islands, where a church service takes place. After they're gone the village is quiet and peaceful again. We continue the evening with a dinner at the restaurant next door.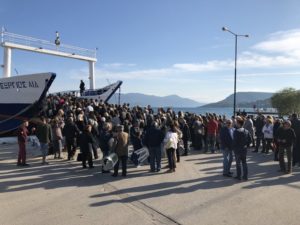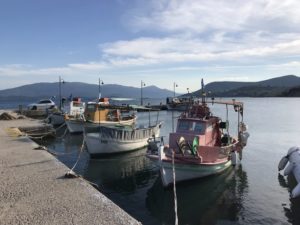 4th day's stage
Today we must take the ferry to a peninsula from where, after 6 miles, another ferry takes us back to the mainland. We hear that this ferry goes every 2 hours. So, we begin a race across the 350 feet high hill to catch the next available ferry leaving in only 30 minutes. We are right in time, but we just see the ferry leaving when we arrive. After an hour another ferry arrives and we realize at the very last minute that this one is ours ! The information that the ferry runs only every 2 hours was simply wrong.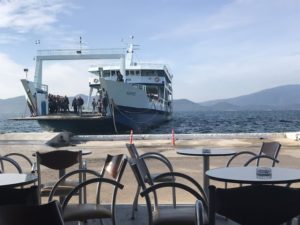 We lost a lot of time, so take the shortest way to Thiva. This way goes again parallel to the highway on a nicely paved road. With still 20 miles to go, we are facing very strong head winds. Therefore, we try for the first time the 'Belgian Spinning Top', one of us takes the lead for a minute with the other go behind before we switch roles. Somehow already exhausted, we decide to make a last stop at the only little village nearby, which means just a detour of half a mile. We were not aware that this short distance also means to climb 300 feet in altitude. The imagination of a large cold glass of Coke keeps us going. At the top of the mountain we find a little bar and buy 10 cans of Coke, they are gone in no time !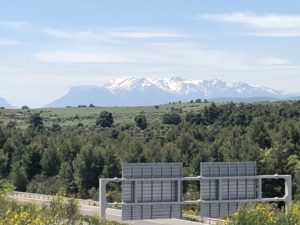 The last 20 km should not be a problem at all, at least we think so. Then, suddenly, the road ends. We have only 2 feet between the concrete wall and the slope, quite challenge for Sven with his vertigo. And I am feeling a bit uneasy as well. Then we push the bikes down the hill on a small dirt track in order to ride on a beautiful hiking path along a lake.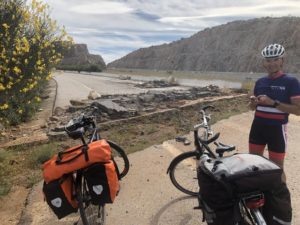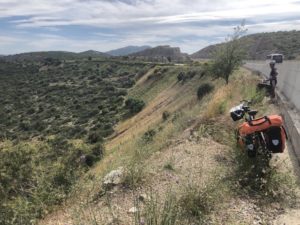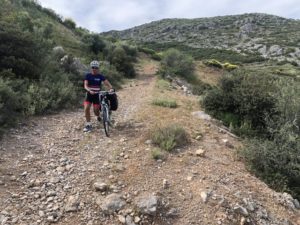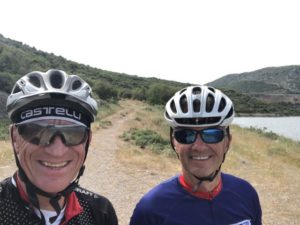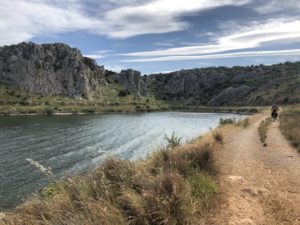 Shortly before Thiva some farmworkers stop us to take a short cut. A little later we arrive in Thiva, covered with clay and mud. Our plan is simple: quickly to the hotel, take a shower and rest a bit, then a big dinner. But the day with all its surprises is not over yet. The first two hotels are fully booked, the third and last in town, managed by a nice young man, can't accommodate us either. He is very helpful and connects us with two holiday home agents outside of the city.
While I try desperately to get one of them on the phone, Sven finds out that the young man at the reception is not satisfied with his life and they start a coaching session right away. In fact, I manage to get an entire log cabin for us, it still needs to be cleaned and is located a few miles outside of the city – in the direction we just came from. Unfortunately, we can't leave immediately, Sven has to finish his coaching dialog first.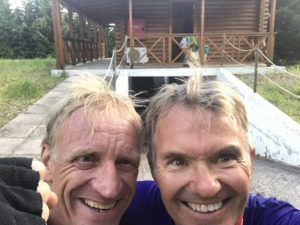 The couple who rents out the cabin is very nice, we even get it 50% off, since we are in the low season.
Totally happy that we finally found a place to sleep, we give them a generous tip. However, the look of their faces tells us that they don't understand our gratitude. We take a taxi back to the city and look forward to a big piece of meat in a steak house. After studying the menu, the waitress tells us that they are out of steaks, there is only soup and pasta left. BBQ in Greece – incredible but fits nicely into this day filled with mishaps. Nevertheless, we find again a good solution: We find the best restaurant in town and get a real good meal. While we are having dessert, we get a call from our welcome committee in Athens, they are already celebrating their own arrival in Athens.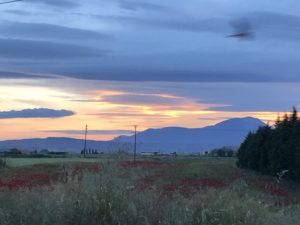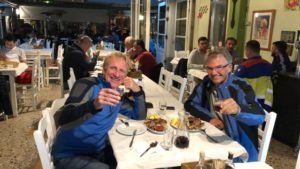 5th day's stage
This year, for the first time, I have no printed maps with me, and I am completely thrilled by the App Komoot, which not only shows us the way, but also gives information about inclines and the surface of the selected paths. To avoid riding along the freeway, I work out overnight a route across a mountain which is supposed to have 90% road surface by using Komoot.
We say goodbye to our landlords and have breakfast at a truck stop on the other side of the street. A Greek guest asks us about our tour and is so excited, that he spontaneously buys us a Greek muesli bar and wishes us well. In a good mood and with plenty of time on our last tour-day – we want to arrive in Athens at 4 p.m. – we start steeply uphill through Thivia to the south. After 5 miles, our road turns into a gravel road, although my Komoot is still showing road surface. After 15 miles, we are pretty annoyed, as the road surface changes from gravel to a muddy clay slope. We try to clean our bicycle wheels with small sticks, as we can hardly drive any longer. We decide to take a 10-miles detour and head north to the freeway, as the road surface will not change on the planned route for the next 30 miles and it also includes a climb of 1,500 feet in altitude. After another 10 miles gravel road, we finally have asphalt under our wheels again and a short time later we reach the street along the freeway, which brings us to Athens.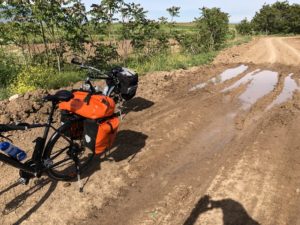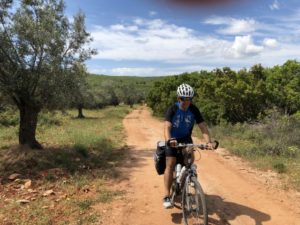 The last 15 miles to Athens, we almost only go downhill. It is a relaxed ride that takes us from quite country roads into a bustling metropolis. Cycling on the streets of Athens in the rush hour with no bike paths is a challenging experience – even if all car drivers think of themselves being very considerate of us. At 5 p.m. we reach our destination, the Panathinaiko Stadium, where the first Olympic Games of the modern era took place in 1896.
Our fan base welcomes us with a big banner, flags and sparkling wine! Jutti serves sparkling wine, Achim W. documents everything with his camera, Klaus and Achim Z. hold the banner. Nicola, Fabian, Petra,
Birgit D, Kai, Bettina, Birgit W., Karin and Lothar are just as happy as we are to have our goal for this year achieved. Special thanks to Achim Z, he organized a minibus, which brings us and our bikes to our hotel, 10 miles away.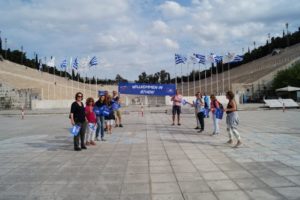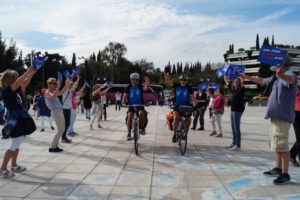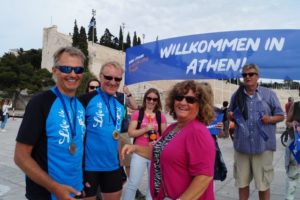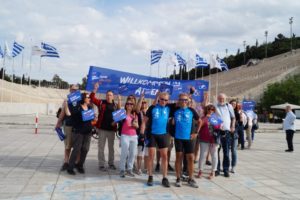 We occupy half of the rooms in the hotel which hosts us for the next 4 days. It almost feels like a private accommodation. Every morning we have breakfast together at a long table directly at the pool. In the evening, we all meet for a sundowner at the pool of the hotel after coming back from our sightseeing tours. On Saturday evening Sven and I invite our friends for dinner in a magnificent restaurant with ocean view. We enjoy Greek Tappas and Greek wine. For us – our fan base agreed, the days in Athens were an absolutely worthy celebration of our x-Europe-Tour.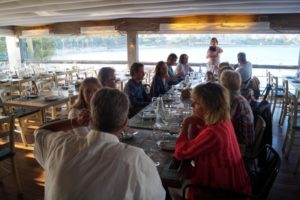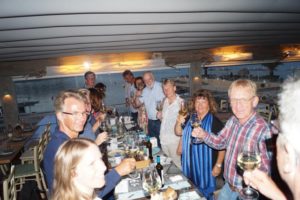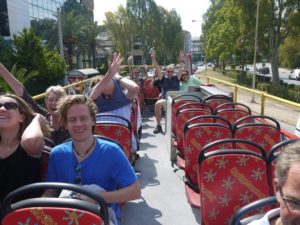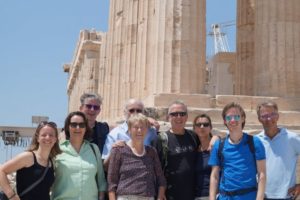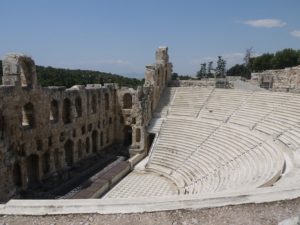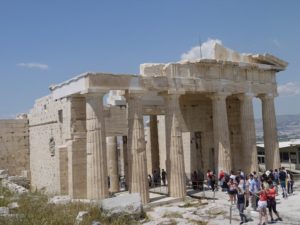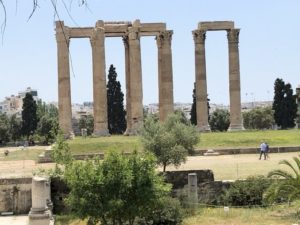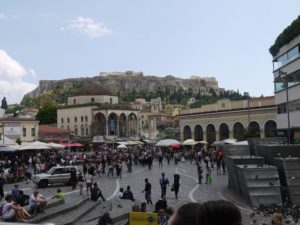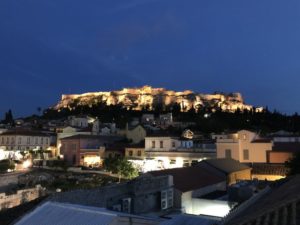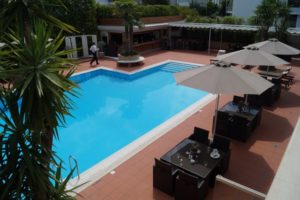 Gallery