First of all: This was one of the most beautiful stages we had during our cycling tours since 1990.
The flight from Hamburg with both bikes checked in as oversized luggage went smoothly again. Over the decades it has become rather routine for the people at the check in counter to deal with bicycles as bulk luggage. I arrived safely and relaxed in Munich. Almost at the same time Sven flew in from Florida via Dusseldorf and Kjell, Sven's son, arrived from Stuttgart in a rental car. Very convenient for us, we had a driver who took us to Innsbruck. The next stages starting with Trieste will be for sure more difficult in terms of arrival and departure.
In Innsbruck we had pre-booked a hotel and witnessed a storm of apocalyptic proportions during dinner in a restaurant opposite from "the golden Dächerl" , storm included tremendous winds & heavy rain. Best conditions for our upcoming bike ride.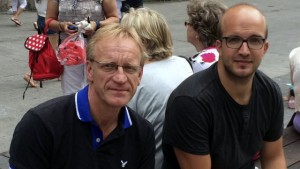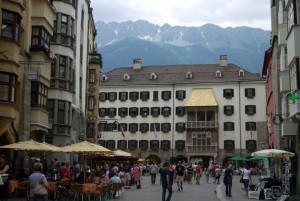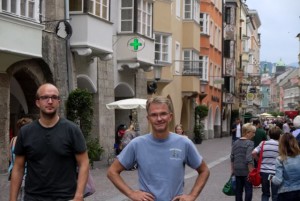 The next morning the three of us travelled by car exactly to the place (Mötz), where we had finished our tour last year after crossing the first Alp pass and reaching the Inn Valley. With perfect weather conditions (no rain and no headwind) we started our cycling tour in high spirits and pumped up with adrenaline on a beautiful path and cycled through the Inn Valley to the west.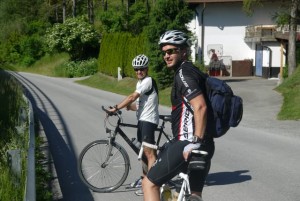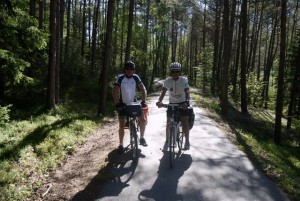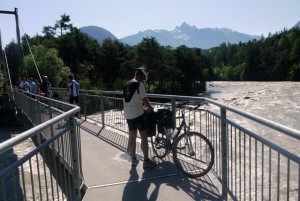 My perfectly prepared maps from Google Maps were not needed, since the path we took was not plotted and our only orientation towards Landeck was the River Inn. We enjoyed the ride without gradients until we missed the river crossing in Imst . Still on the south side, the way was only slightly uphill, which didn't irritate us yet. Then it got much steeper and we came to a road. Also, no problem. Next, the road made a steep serpentine upwards: we made it somehow, but it was quite tough. As we passed the village of Arzl – still in low gear – it began to dawn on us that I had to take a look at the map again.
Actually we had bent before Landau towards an Alp pass and found out that we could save  a few miles on this track, but I could not say for sure which altitude we could expect. When we finally were back on our proper route at the end of our energy, we had climbed an unnecessary  2,700 feet and saved a quarter of a mile in distance. However we now had the climb to the Reschenpass ahead of us.
At this point I have to compliment my two bicycle buddies who seriously questioned my competency as navigator, but did not grumble, on the contrary, they were full of praise about the beautiful view we enjoyed.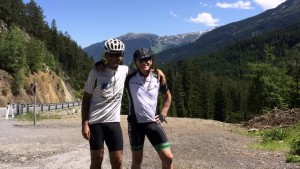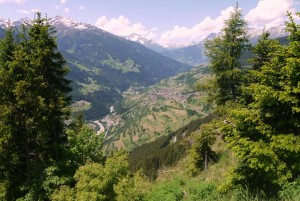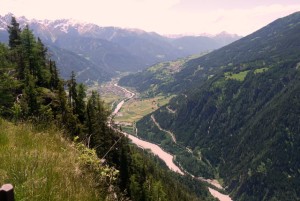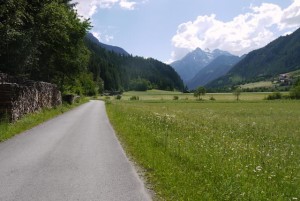 The weather kept dry until shortly before Reschen, the end of our day's stage. We found shelter when the rain started and took the opportunity to prepare mentally for the last severe climb: 13 serpentines. My legs, attacked by cramps, didn't obey me properly, so we had a short stop at every serpentine. Sven however, best prepared because of his altitude training in Florida (highest elevation is the 17th Street Bridge in Fort Lauderdale with 60 feet in altitude) rode to the top swiftly, up there he had to wait for us in icy winds. As a result he got a cold the next day.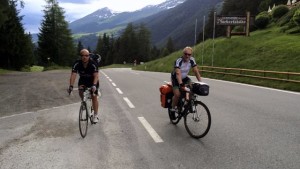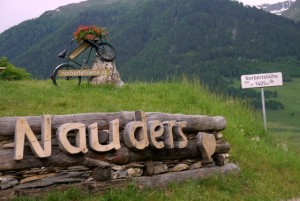 In Reschen we had a very nice evening, which was also the farewell with Kjell, who rode back the next morning to Mötz and returned safe and sound with the rental car. The evening ended at the hotel bar, where we got an introduction to the local fruit brandies from the hotel owner.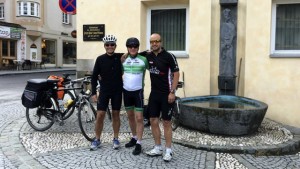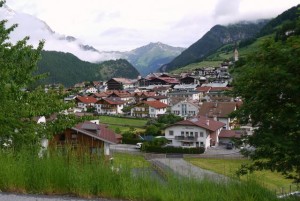 The second day's stage made up for the troubles of the previous day: Anyone who has ever  gone  down the Reschenpass along the river Adige to Merano and Bolzano, no matter if by car or bicycle, will forever remember this beautiful scenery . We  enjoyed the amazing landscape (wine and fruit plantations, surrounded by impressive mountains) riding constantly downhill on nicely maintained cycle paths with light tailwinds. We saw many oncoming cyclists, I bet we had the same stressed look on our faces the day before.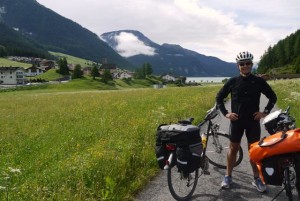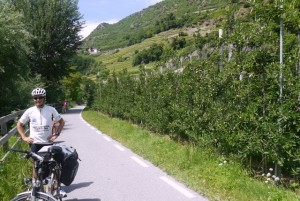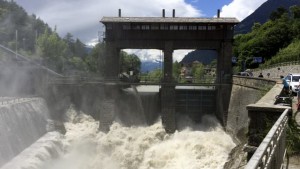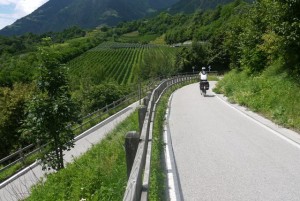 Sitting in a cafe in Merano, Sven logged in to the final event of his online study program. I witnessed his "graduation ceremony" on the mobile phone.  We arrived in Bolzano, the destination of this day's ride, during rush hour. Similar to Münster there are more bikes than cars and as a foreigner you must be damn careful that you will not be run over.
Next morning, the river Adige was our guide again. Just a dream for cyclists: Riding on a well paved, wide bike path, far away from any road, directly beside the river Adige and always with a gentle slope. We could continue forever.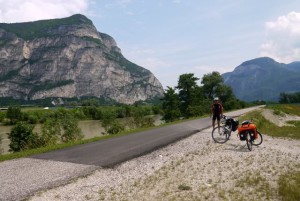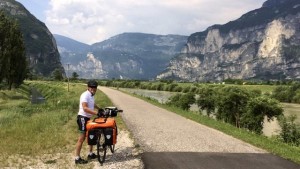 In Trento, still far away from the Lake Garda, we left our dream route and turned east. Trent has a beautiful marketplace. Here we extended our lunch break a little bit, as a black wall of rain came from the east.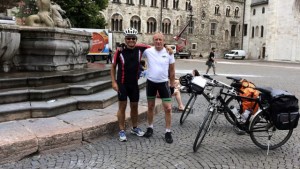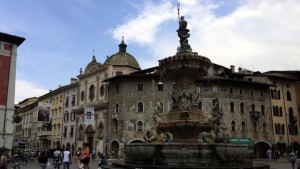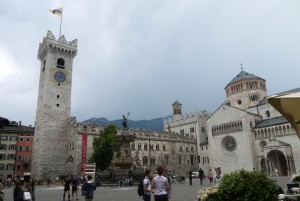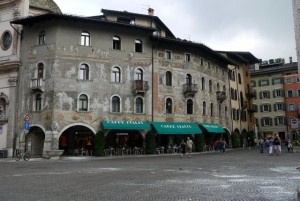 Unfortunately, the dark clouds did not move an inch, so we decided to take the short but crisp rise. This was the first test of our rain gear and proved its worth. After about an hour we came to a high valley in the direction of Borgo. Borgo is a small, very cute place with an ice cream store, two hotels and a restaurant. Guess what we did this evening…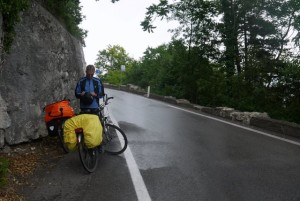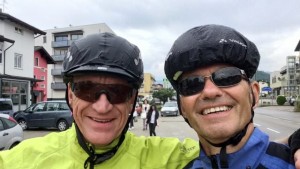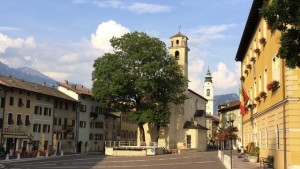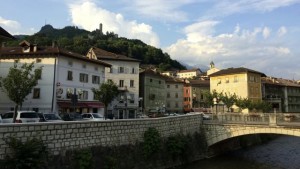 Through the narrowing valley we continued the 4th day on a bike path next to the river Brenta, always slightly downhill and ended up abruptly in the north Italian plain. The Alps were behind us and in front of us was the countryside.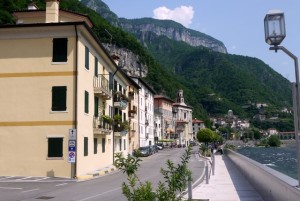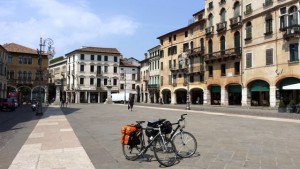 The fourth day's stage ended in Treviso, a beautiful city with nice hisotric buildings. We allowed ourselves a drink on the Piazza dei Signori and had dinner in the next door restaurant; of course everything under the open sky – Bella Italia…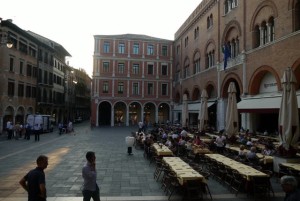 The fifth daybrought us through a rather boringlowland region. We cycled our route and realized that the airportof TriesteinMonfalcone was located several miles beforeTrieste. Due to thefact thatwe had conqueredthe Alps faster than we had expected, the fifthday's stageendedin the airport area. With the time we had saved we could afford to spend our last day enjoying the beaches of Gradoonthe Adriatic Sea.On the way to Grado we passed through Aquileia, famous for itsexcavationsandother archaeological treasures. Aquileiawas an important junction and large city of the Roman Empire.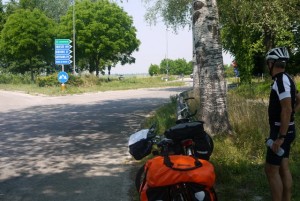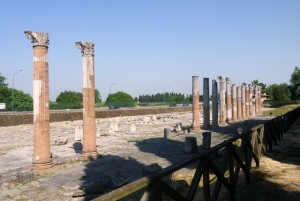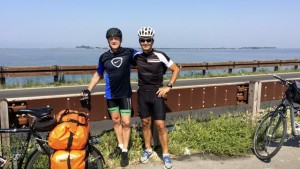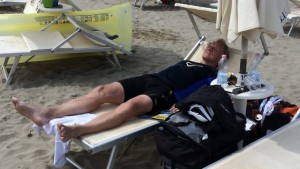 The next morning we went very early to the airport, because we could not check in our bicycles the evening before. Actually we were the first passengers that morning, but we had to fight literally until the last minute (10 minutes before departure), to check in both bicycles. Of course we had booked the flight including two bicycles, but Lufthansa had overlooked that the aircraft could take only one bike. What should we do now? Sven showed incredible patience as the discussions became more and more heated. Finally the airport manager was brought in. He came up with a brilliant idea: one bicycle was declared as a piece of luggage, now we were allowed to take it with us. Life can be so easy, right?
Finally we flew via Munich back to our homes and during this flight we already made plans for the next stage: From Trieste to Split…
Galerie