Like every year we could't wait to start again, Sven had done the logistics part very well, we arrived in Basel almost at the same time; he flew in from Florida via Dusseldorf, I had a direct flight from Hamburg. All bags and both bikes come in safely, we could start this year's leg without any complications.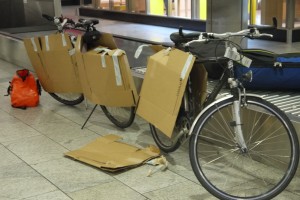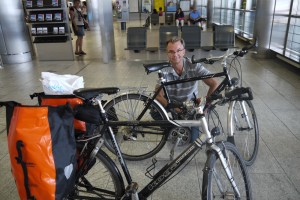 My job was, as every year, to work out the perfect route. I spent much of my time on that, since we had to master our first mountain pass. I was eager to find the best route, knowing that an "insider" would join us the first day, I did not want to embarrass myself.
In Basel we got a warm welcome from Rolf's and Peter's families. A dinner with both families and Sven's sons Finn and Kjell evoked memories of the final stage of our last year's trip. Once again thanks to the families of Rolf and Peter for accommodating us.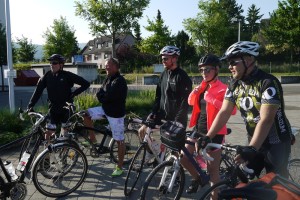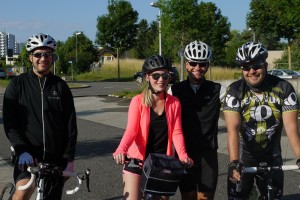 The next morning we met in time to start: Finn, Kjell, Rolf, Peter's daughter Mila, Sven and me. A little later we picked up my friend Michael in Rheinfelden. The first day's stage ran continuously along the river Rhine, the first day's destination was Schaffhausen. As I anticipated, Rolf, who had just taken a quick look at my map the evening before, could help me several times to find our way out of Basel. A few times I lost a little bit the orientation. Rolf's dry comment was: "It looks like you still need to warm up to read the map…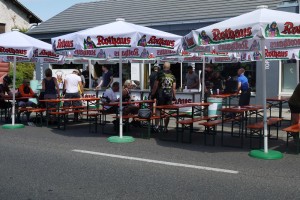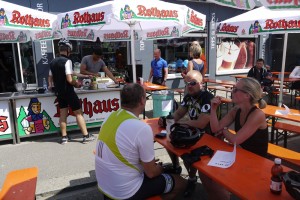 Finally I "warmed up" in terms of map reading. However, by pure chance we found ourselves in a restricted area of a bicycle folkfestival-. This meant that all roads were closed to car traffic and we could also enjoy the best food along the road. A an aid station a pedestrian asked us where we came from. As we replied "from Hamburg", she said, "But you didn't ride all the way from Hamburg, right?" Kjell's answer was: "No, not from Hamburg, but from Glasgow!". Our way continues on smaller roads and bike paths. Shortly before Schaffhausen we say goodbye to our guests. Only Michael stays with us till Schaffhausen, where we still have time to gaze at the stunning Rhine Falls.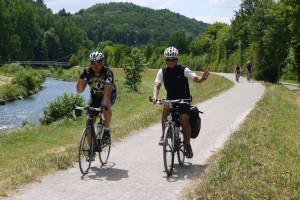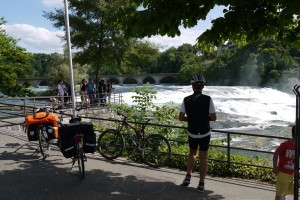 Day 2, Sven and I continue to head up the river Rhine to Lake Constance. We take the ferry to cross the Rhine from Konstanz to Meersburg, then we continue to Lindau. Almost all day we have the pleasure to use the well-developed bicycle paths.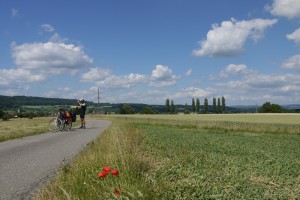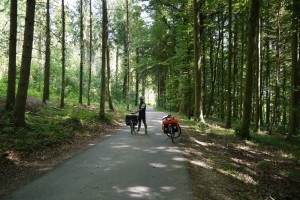 Although weather is good on the 2nd day, we still have constant headwind, but this doesn't bother us very much. To enjoy the tailwind, I leave behind my IPhone on a park bench. Supported by adrenaline and tailwind I manage to do the 10 km round trip in less than half the normal time. Shortly before Lindau, in Wasserburg, we find a nice, small hotel and restaurant on Lake Constance with the live broadcast of the soccer game: Germany vs. Portugal.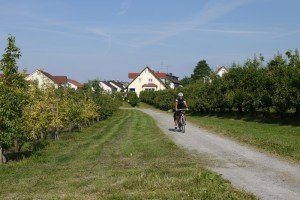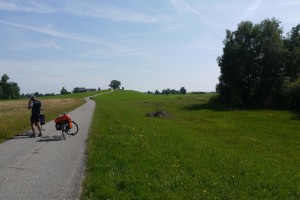 The 3rd day's stage leads us from the lowlands to the foothills of the Alps. Since we have our target of 100 km per day mastered very well during the first two days, we have only 200 km left for the next 3 days crossing the Alps. Out of respect for our first mountain pass I had shortened the total distance of the usual 500 km to 400 km.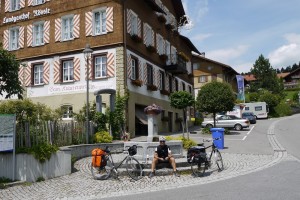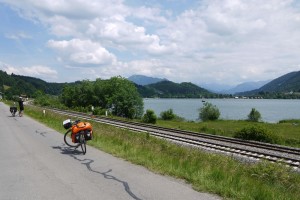 Following the Bodensee – Koenigssee – cycling trail along small roads and bike paths with moderate incline we reach the Allgäu. After Oberstaufen we still have some miles without elevation, passing the Great Alpsee till Immenstadt. The last 10 km again we ride directly uphill till Petersthal where we find a small inn with an affiliated farm for our overnight stay. We are the only guests that day and the innkeeper / farmer almost falls asleep at 9 clock, but we have no mercy, after the soccer game Brazil – Mexico, we also have to watch the Russia – Korea game in their parlor.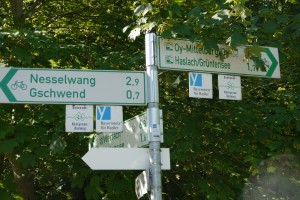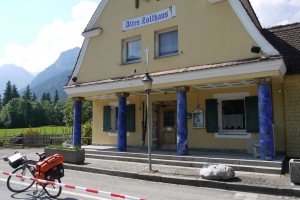 At breakfast we realize that I had made a little mistake in the planning to cross the Fern Pass: According to the map we have to choose between a section with a slope of about 20% and a trip through the Fern Pass tunnel. We were rather sure that passing the Fern Pass tunnel with bikes was not allowed. On the other hand 20% incline with the trekking bikes and luggage is not possible, but we also know: pushing is not an option!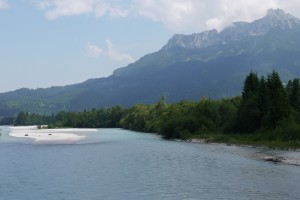 After some minor rises we come to the Alp foreland: For sure the nicest part of this year's leg ! All in all this year's trip is one of the most beautiful legs on our x-Europe-tour. Then the challenging climb begins toward Lermoos.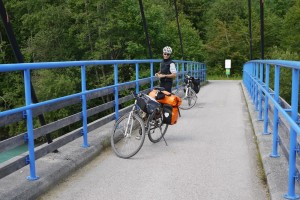 In the beginning, since we don't have any alternative, as of Reutte we are cycling next to the cars and trucks on the busy pass road. Then on a side road and cycle paths we continue to Lermoos. For the pass crossing we find a third option: via the old Roman road Via-Claudia-Augusta. It goes parallel to the Fern Pass tunnel on a gravel road …, but almost 100 meters higher. That day we master almost 1300 meters altitude and our talents to ride our bikes are being challenged several times, riding with heavily loaded bikes on steep gravel roads.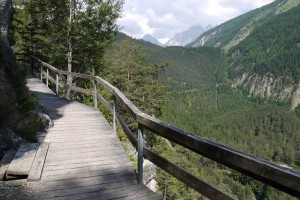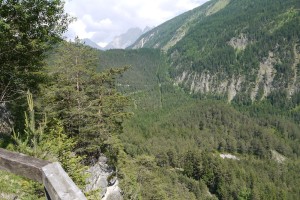 In Nassereith we are being rewarded for our first Alps crossing with an amazing inn: The owners area fantastic family offering great food and the best part: they are interested to hear our cycling story!!! We should mention that this inn is the only one we could find in Nassereith and the surrounding area.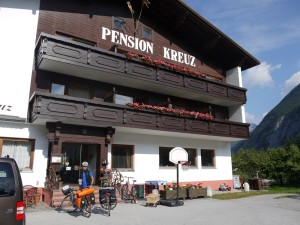 Totally relaxed we start into our last day. We do not choose the direct downhill to the Inn Valley, because we want to save 20 km detour. But we overlook the fact that we must rise again from 870 m to 1100 m above sea-level within 5 km! This is quite a challenge right after a rich breakfast, it shows us clearly once again: we are in the Alps! From then on, it goes downhill to the Inn Valley, sometimes with 60 km / h speed. Then we get into two catholic Corpus Christi processions. Since we want to be respectful we let the procession pass by waiting with our bikes. However, an old woman makes us aware of our cultural shortcomings: We missed to take off the bicycle helmets…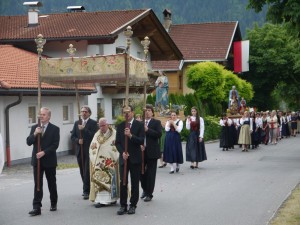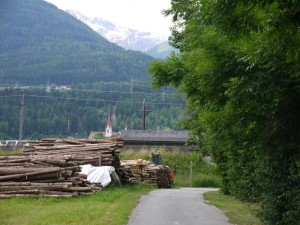 Easily we ride through the Inn Valley to Innsbruck. Then we have our last little incident; a little girl riding her bike on the left lane in a curve, crashes into Sven: the little abrasions are being fixed soon and we're good to go.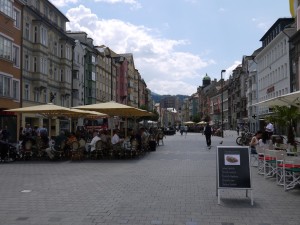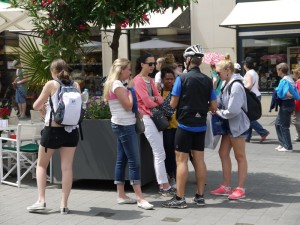 In Innsbruck we have some time left for a short city tour, then we take the train through the Inn Valley back to Basel.
Let me summarize our adventure in 2014 with some statistics:
Number of km cycled: 424
Number of hours cycled: 22.5
Number of m in altitude difference climbed: 3,755
Number of phones lost: 1
Number of bicycle crashes with little girls: 1
Number of processions viewed: 1
Gallery