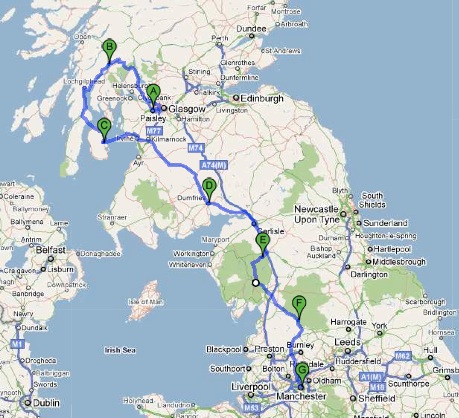 Saturday 07/31/10, from Glasgow to Invararay
We started the tour on fantastic cycle paths, always next to the water with almost no rain, even though forecast was really bad. In the afternoon we had to climb a hill with the interesting name "Rest and be thankful" and enjoyed the great view from the top afterwards. Thanks to Gary Keatings, he arranged accommodation for us in Invararay. The dinner at St. George's was excellent.
Sunday 08/01/10, from Invararay to Brodick
We experienced the Scottish Highlands ! A fairly hilly leg made us climb in total 800 m. Whether wasn't perfect, however no rain in the morning and even some sunshine in the afternoon. After our lunch break we cycled exclusively on small roads. A ferry brought us to the island Arran. The last 25 km to Brodick were just spectacular ! Bed and breakfast at Eleanor Hamilton was again arranged by Gary Keatings. Great hospitality ! We enjoyed dinner at Brodick's brasserie. The chef lectured on the important differences between the Scottish and English cuisine.

Monday 08/02/10, from Brodick to Dumfries
We made a long ride of 120 km most of the time on main roads with only a few hills, not very spectacular. We counterbalanced the light rain in the afternoon with tea and homemade ice-cream during two breaks. Tail winds made us 'fly' to Dumfries, achieving an average speed of 20.9 km/h for the day.
Tuesday 08/03/10, from Dumfries to Ullswater
We cycled on small roads with light tail winds, giving us a nice ride of 100 km's for the whole day. We saw Gretna Green in the morning. The afternoon offered some sunshine and beautiful views. We arrived in the Lake District in the evening, a wonderful place. We had problems to find accommodation and ended up in a hotel far above our standard. They carried our bags to the room ! Dinner in a pub nearby, good food, cozy and warm.
Wednesday 08/04/10 from Ullswater to Settle
A perfect day started with a donation of 5 £ by a hotel guest seen at breakfast. Somehow the expensive hotel paid off ! We climbed the steep pass out of the Lake District followed by another hill going to Kirkby Lonsdale. 1200 meter altitude in total provided us with fantastic views. Strong tail winds in the afternoon brought us to Settle. Friendly welcome in a guest house with tea and homemade cake. We celebrated the toughest leg with a couple of beers in the local atmosphere of the 'Three Lions'.
Thursday 08/05/10, from Settle to Manchester
The day started with rain and continued with two flat tires ! However after overall 600 km / 375 miles we reached Manchester, the 2010 destination on our x-Europe-Tour. Lisa Mills and Mike Cooke of DHL gave us a very warm welcome. They shipped Sven's bike to the Re~Cycle drop off point in Colchester were it was donated to the organization.
Gallery