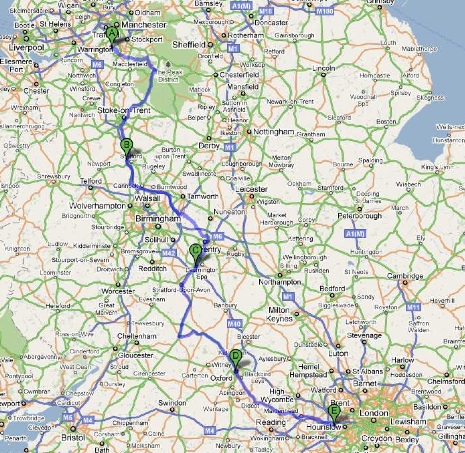 This year's leg of our x-Europe -Tour us from Manchester to London on a direct path of about 350 km (220 miles). We had 4 days to complete it and with an average of 100 km (65 miles) per day we were able to afford a  few detours.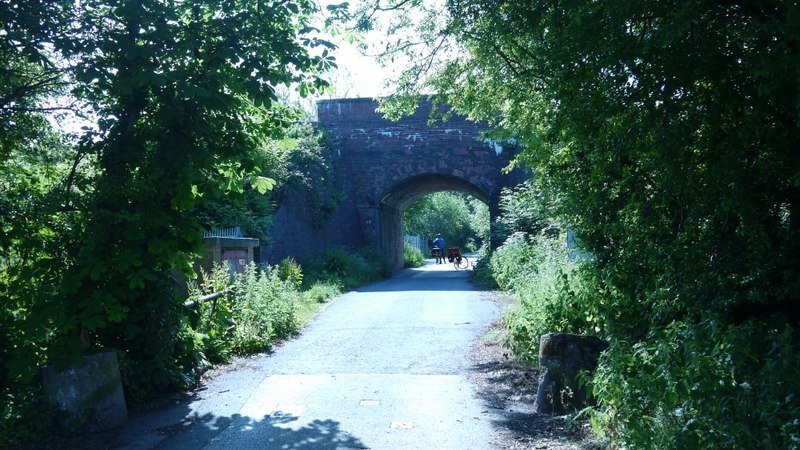 We start out with great weather (even Sven wore a short sleeve) and were happy to be on the Road again.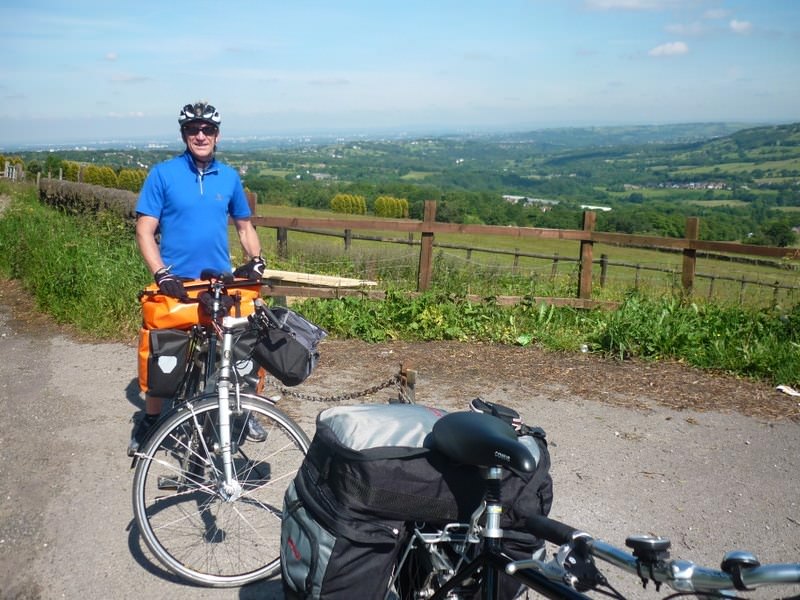 The first day's ride took us through the "The Peak District National Park" which as per it's name, it is filled with many mountains. Due to this, we make 1000 meter (3300 feet) difference in altitude already after only 50 km (30 miles) of cycling.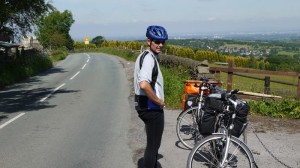 We reached an old embankments of former coal cars, which have been developed into a cycling and hiking trail (Tissington Trail).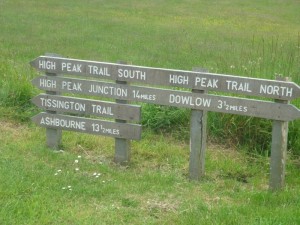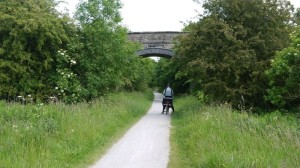 We rode a next few hours through canyons and tunnels, on railway embankments and slopes almost without incline (ie. A dream for all cyclists). Completely euphoric, we cycled through a 300 meter tunnel directly into the center of Ashbourne. Here we were concerned on the remaining kilometers to Stoke on Trent because our street really borders every hill and valley. We arrive completely exhausted in Stoke on Trent, hence we nicknamed it as the "ugliest town in England". It was in sever need for renovation and charm.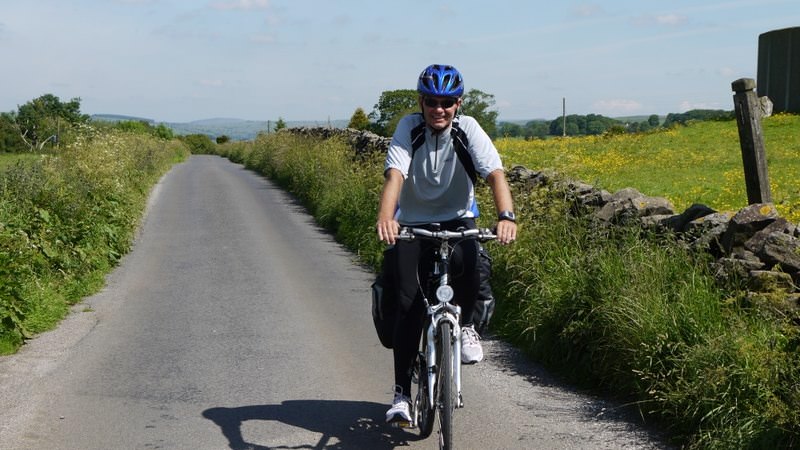 We did't want to pass Birmingham so we kept East on the second day, via Coventry to Tamworth. The roads are easy to ride and often border rivers.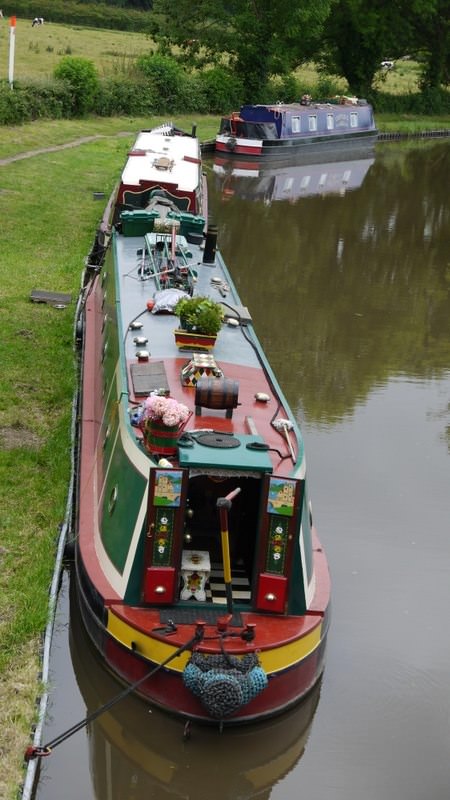 Coventry is a nice university town. The scene here is characterized by a large ruined church (destroyed in world war II by the Germans) and adjacent to it, you can find a very modern church.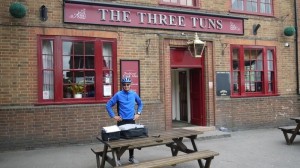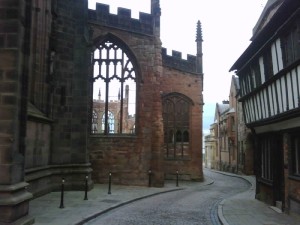 The third day's ride took us through the very touristic town of Stratford-upon-Avon, where Shakespeare is met at every turn. All the boat tourists also seem to meet here as well since the small harbor at the entrance of the city is fairly crowded.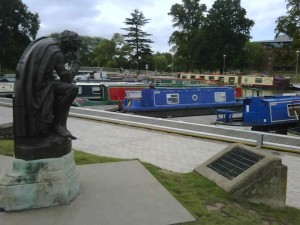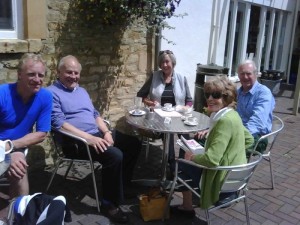 Across the cute little Morton in Marsh, we once again got a couple of English tourists excited about our Re-cycle idea. We continued through Chipping Norton to Oxford, our final destination of the day. The weather has changed from one day to another, to such extremes of almost summer temperatures, to typical English weather.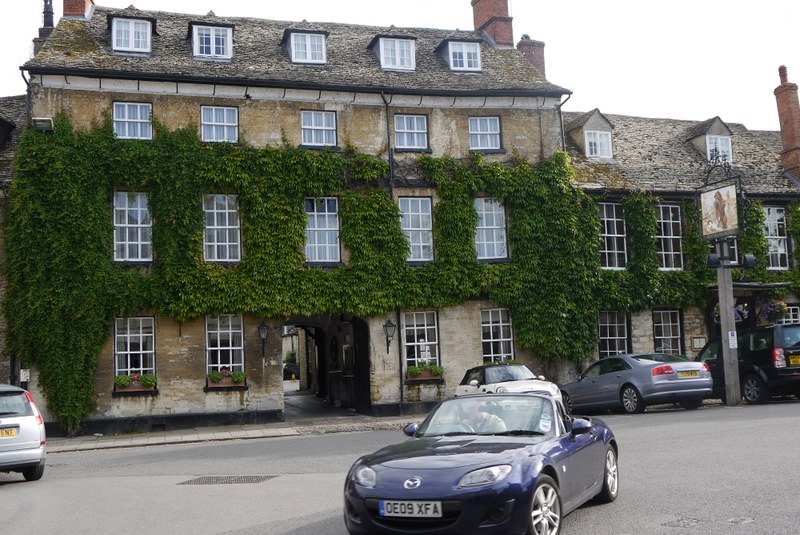 Consequentially Sven was wearing trousers and a sweater for a long period of time. We survived a light drizzle without rain gear but just we thought we were in the clear, in less than 3 minutes, we were soaked. The nearest small town of Woodstock really brings back old music memories, although this place has nothing to do with THE "Woodstock". After deciding rest for the day, we realized how beautiful it was here and were thrilled with the idea to stay and have dinner at one of the nice restaurants we found. The place is actually a magnet for tourists, so by the 5th attempt, we found a vacancy at  a hotel while Sven dials in into a two hours conference call despite being soaking wet. How is that for commitment!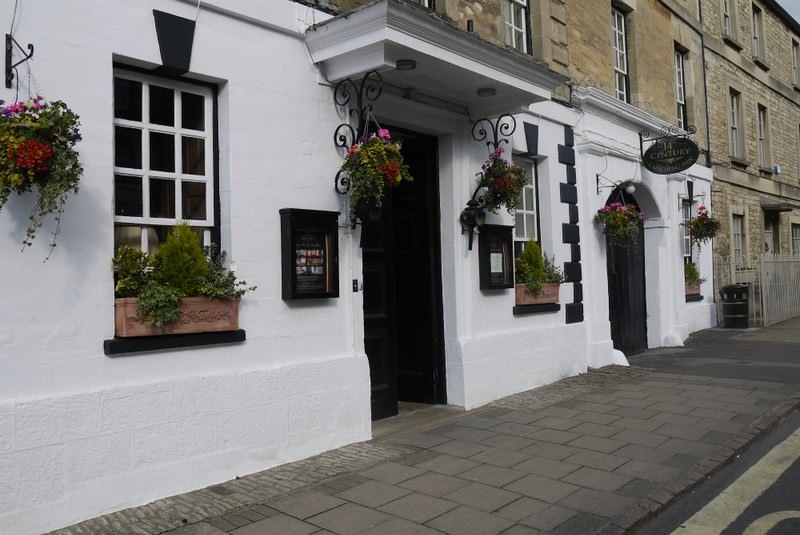 The hotel was a 200 year old building and has in fact everything you'd expect from an old English hotel: a traditional owner, a courtyard (where we enjoy the first glass of wine), doors that do not close properly and stairs that creak just by looking at them.
After taking a long hot shower, we felt energized to enjoy an evening at the market accompanied by wine 2, 3 and 4 and the unexpected appearance of the setting sun.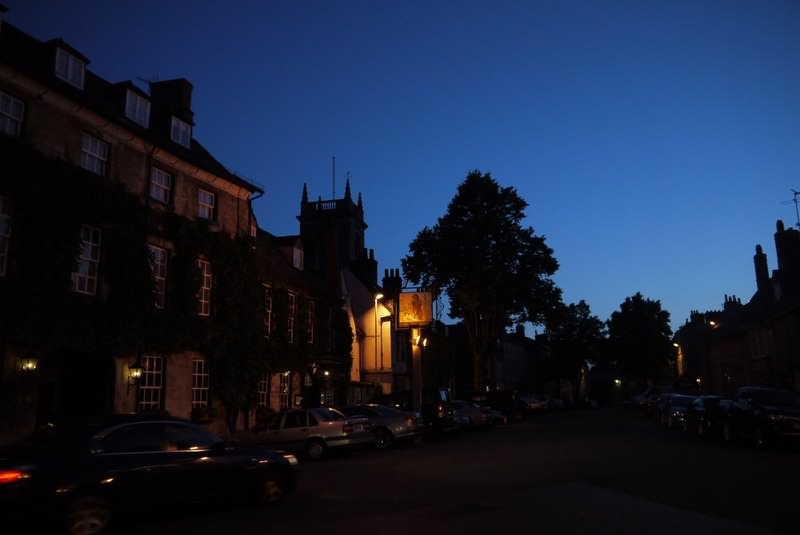 Due to the early stop in Woodstock, the last day awaited us with another 115 km (70 miles).  We needed to arrive in Heathrow that evening, for a 7 AM flight the following day. We cycled through the ancient town of Oxford delighted with its traditionally old houses and university buildings at a rather quick pace towards London.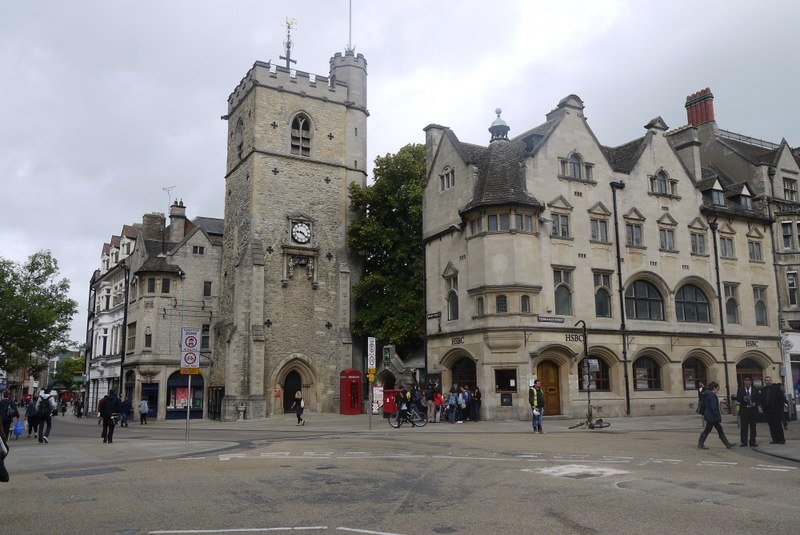 Here we confronted our first real challenge: After Oxford the weather transitioned from gray to dark gray, while a steady headwind increases our frustration. Yet another 80 km (50 miles) ahead of us and probably a few too many wine glasses from the night before, we revisited the purpose of our bike tour. We learned the previous day to put the rain gear on before it actually starts to rain again. Actually it doesn't help much due to the headwind questioning if we really were moving at all. We decide to take a short break every 5 – 10 km (5 miles) to control our stress level. But again, that  was English weather.  After about 10 km  (6 miles) the rain stopped and the mountain offered us a downhill ride as the wind took a slight turn in our favor. Moving forward, we rode in good spirits and without rain gear into Eton of which seemed to consist of nothing but an elite school along-side some small shops. Every second person wore a school uniform and the Union Jack blew from everywhere.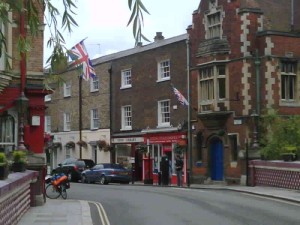 On the other side of the Thames, the gigantic Windsor Castle watches over of the city.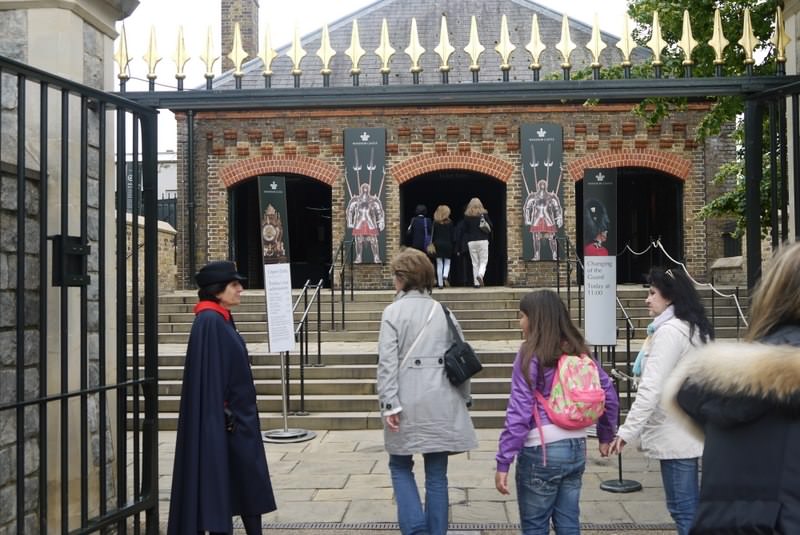 We enjoyed the remaining distance to Heathrow, reaching a hotel at the airport. We appreciate the patient hotel concierge who was kind enough to listen to bike tour story.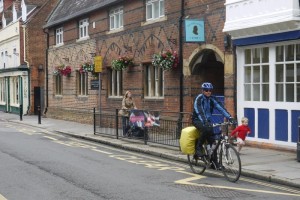 On the return flight, we discussed next year's leg of our x-Europe-Tour. Perhaps we will be on the classic London to Paris route???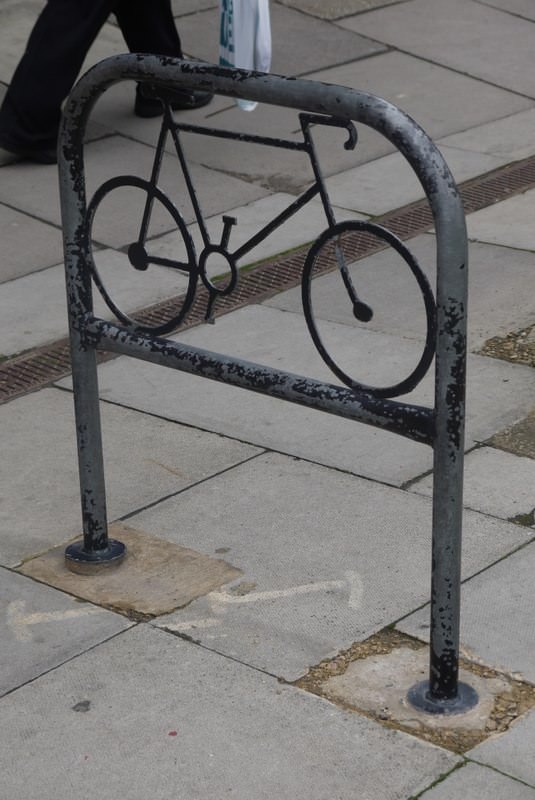 Galerie